Peering provides the lowest latency path.
Built-in redundancy, flexible bandwidths.
Our SLAs guarantee 99.99% availability.
From reduced cost to improved user experience, peering has many benefits for all sorts of organizations, from small hosting providers to ISPs and content delivery networks, and on to enterprises.
Our GlobePEER services allows networks to exchange traffic, helping you to make the most of your resources and expand your network for the benefit of your business. The connection to DE-CIX not only saves costs on cross connects, but it saves you a lot of time: you do not have to arrange peering agreements for dozens of networks by contacting them individually – the DE-CIX route servers give you instant access to about 80% of the connected networks.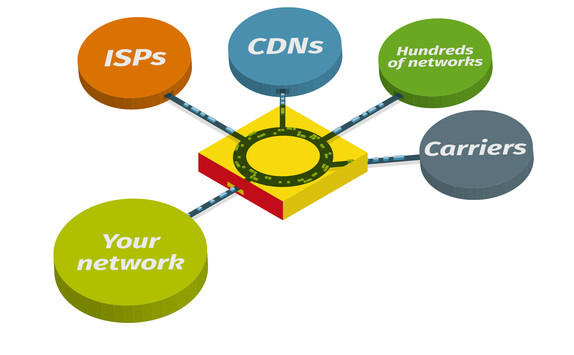 To take advantage of the GlobePEER service, you need to have access to DE-CIX, and you need to have your own Autonomous System Number (ASN).